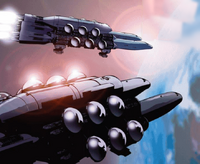 The Arks were the spacecraft humanity created in order to evacuate enough humans to Nova Prime in order to save the species from extinction.
Technology
Edit
It was initially planned for ten Arks to be created, but the environmental conditions on earth began to accelerate at uncontrollable rate and only six of them were able to be completed.
Ad blocker interference detected!
Wikia is a free-to-use site that makes money from advertising. We have a modified experience for viewers using ad blockers

Wikia is not accessible if you've made further modifications. Remove the custom ad blocker rule(s) and the page will load as expected.